Words of Comfort and Empathy: Offering Support in Difficult Times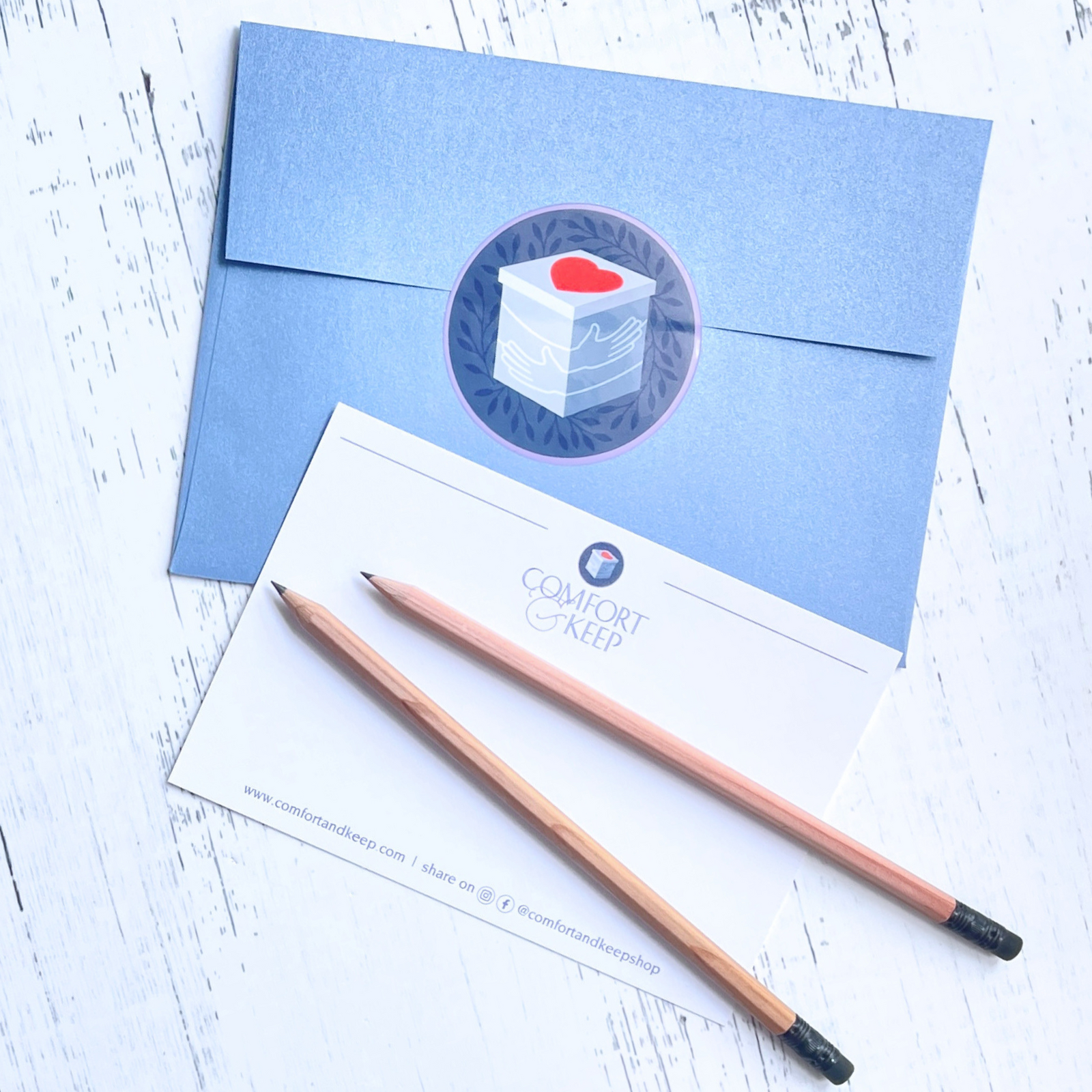 In times of sorrow, loss, or hardship, finding the right words to console and support someone can be a challenge. The power of a heartfelt note can offer hope and strength to those navigating life's most difficult moments. A few carefully chosen words can provide solace and remind those going through difficult times that they are not alone. We put together a few phrases to help you craft your own thoughtful and caring notes to offer comfort to those you love.
Grieving the Death of a Loved One
I was deeply saddened to hear about your loss.
Please know that I am here for you as you grieve.
I know you will cherish your memories and allow yourself to experience your full range of emotions.
I am here to support you in any way you need.
Lean on your loved ones, and remember that you are surrounded by people who care deeply for you. 
I know that words cannot fully ease the pain of losing a loved one, but please know that I am here for you.
Allow yourself space to grieve and heal at your own pace.
Cherish the precious memories you shared, for they will always keep their spirit alive.
You are not alone on your journey.
 Miscarriage
I am truly sorry for your loss and the pain you are experiencing.
Take the time you need to heal, both physically and emotionally.
I am here to listen and support you whenever you are ready to share.
 Feeling Stuck in Life
Feeling stuck in life can be overwhelming, but please remember that this moment does not define you.
Life has a way of presenting opportunities when we least expect them.
Take small steps towards self-discovery, and don't hesitate to seek support from loved ones or professionals.
You have incredible strength, and I believe in your ability to navigate through this phase. 
Trust in your own resilience and the limitless potential within you.
You are capable of overcoming any obstacle, and I believe in your ability to find your way.
It's OK to not have all the answers. 
Dog Loss
I was heartbroken to hear about the loss of your beloved companion.
The absence of our dog is deeply felt.
Cherish the beautiful memories you shared and take comfort in knowing that your dog had a life filled with love and happiness because of you.
Remember that grieving is a personal journey, and I am here to listen and support you as you navigate this difficult time.
I was saddened to hear about the loss of your beloved furry friend.
Our pets hold a special place in our hearts, and their departure leaves a painful void.
Cherish the beautiful memories and the unconditional love they brought into your life.
Their spirit lives on in your heart.
During this time of grief, allow yourself to feel the pain and take comfort in the support of friends and family who understand the bond you shared.
Your pet will always be a cherished part of your story.
We are all better because we knew and loved [Pet's Name].
 Bad Day/Rough Patch
We all have days that test our patience and resilience, and I'm sorry to hear that today was one of those days for you.
Remember that setbacks are temporary, and tomorrow is an opportunity for a fresh start.
Allow yourself to feel whatever emotions arise, but also seek moments of self-care and kindness.
Know that I am here to lend a listening ear or offer a shoulder to lean on whenever you need it.
I'm sorry to hear that you've had a rough day.
Remember that life has its ups and downs, and it's okay to feel overwhelmed at times.
Give yourself permission to pause, take a deep breath, and gather your strength.
Know that your resilience and inner strength will guide you through the challenges.
Reach out to those who bring you joy and find solace in the small moments that make life beautiful.
I have no words of wisdom nor a magic wand to take your pain away, but I can hold space for you and your pain and simply be present. 
I know you will get to the other side of this pain.
 Cancer Treatment & Recovery
I want you to know that I see you walking through this experience as an incredibly strong and brave woman/man.
The road you're on may be challenging, but you are not alone in this experience.
Surround yourself with positivity, lean on your support system, and trust in the expertise of your healthcare team.
Take time for yourself and engage in activities that bring you joy.
You inspire those around you with your resilience and unwavering spirit.
 Break Up
You are deserving of love and happiness, and this breakup does not define your worth.
I'm sorry to hear that you're going through this difficult time.
Breakups can be emotionally painful
Allow yourself to grieve the loss of the relationship and take the time to heal.
Surround yourself with loved ones who care about your well-being, and focus on you as you find your way through this experience.
Closing/Signing
Sending you warmth and understanding, [Your Name]
Wishing you courage and renewed inspiration, [Your Name]
Sending you love and support, [Your Name]
With heartfelt sympathy, [Your Name]
Wishing you strength and a journey of self-discovery, [Your Name]
Sending you love and warmth, [Your Name]
With heartfelt condolences, [Your Name]
Wishing you clarity and renewed inspiration, [Your Name]
Sending you warm hugs and healing thoughts, [Your Name]
Wishing you a better day tomorrow, [Your Name]
Sending you love, hope, and healing energy, [Your Name]
In times of hardship, a heartfelt note can make a significant difference in someone's life. Whether offering condolences, support, or encouragement, remember to approach each situation with empathy and compassion. Your words have the power to provide comfort and remind those facing difficulties they are not alone on their journey.
Comfort & Keep will hand write your note in every care package you send. Just include your words of comfort in the personal message section in checkout!
---